HOW WE MAKE IT WORK



An organization with a Lean Culture will create the "ideal-state" for their business, comprised of waste-free (perfect) processes. They will identify value from the customer's perspective, create a continuous flow of materials or information, and satisfy demand through pull signals. Their target is perfection and they consistently and constantly challenge their employees to strive for this ideal.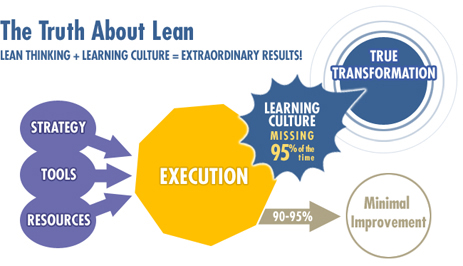 What can Lean Culture do for you?
We will help you discover the power of Lean Thinking and show you how to effectively implement sustainable improvements
You will learn how to unlock the Underutilized Creativity of your employees -the eighth form of waste. (Remember, your employees are the only appreciating asset, and you need to invest in them)
We work closely with Executive Leadership, Middle Management, Change Champions, and especially the Subject Matter Experts to ensure success
Our "Teach - Do" process assures learning and maximizes results - this is how adults learn best!
If you want continuous, continuous improvement to be "in the DNA" of your organization contact us.